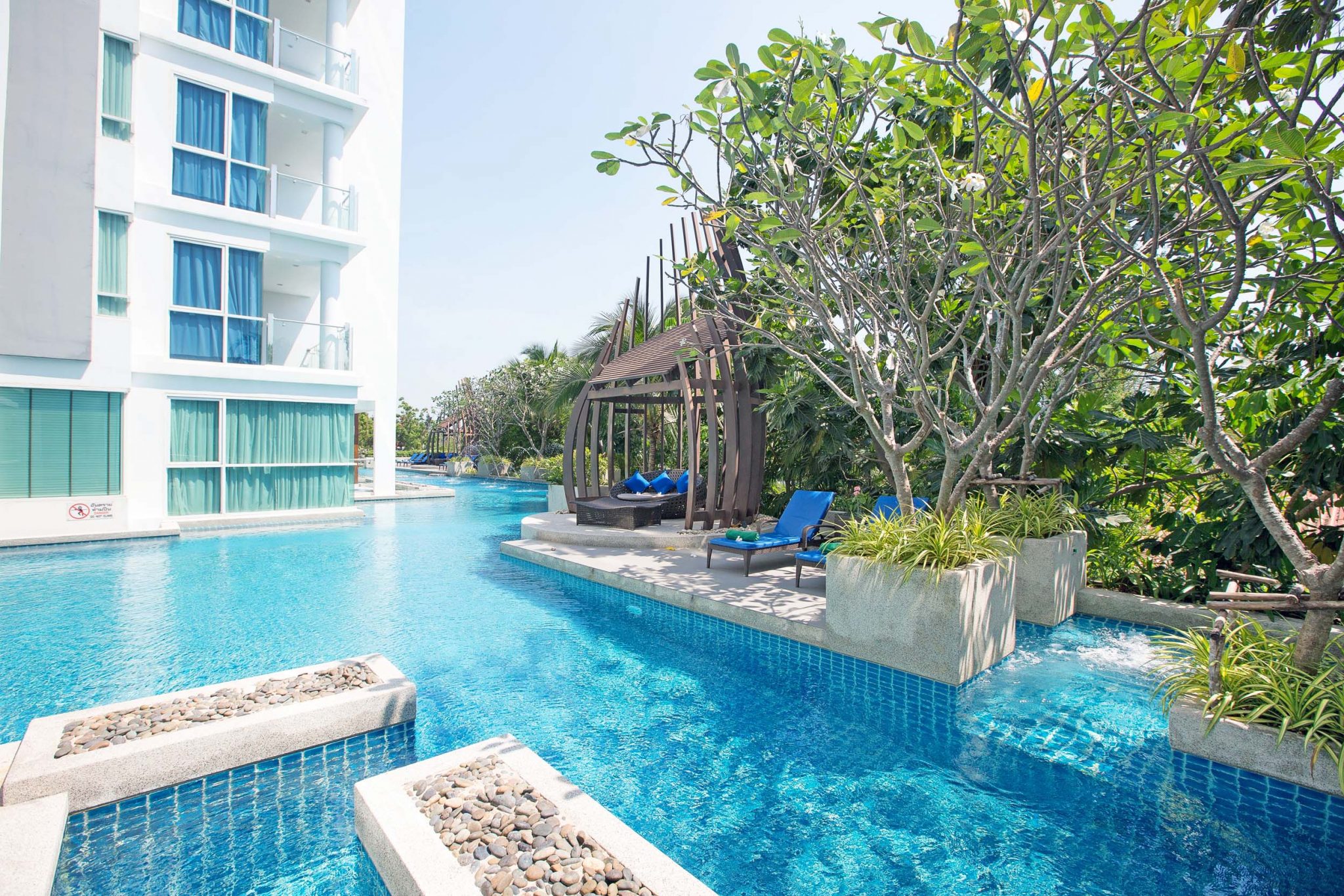 WELCOME TO MIDA DE SEA, HUA HIN
We are the best choice hotel for couples, families, and friends to create more pleasure for your holidays.
Discover a large and contemporary décor room at Mida De Sea Hua Hin with private balconies and captivating ocean views in every room. It is only a short walk to a wonderful private sand beach where you can relax and swim. The hotel also offers golf cart service to take and pick you up from the beach.
Have A Relaxing Day! Mida Hotels and Resorts offer a cozy experience in favorite vacation destinations
Book directly
on our website
enjoy your special benefits
Free room upgrade

Early check-in at 11 am
(subject to availability)
Late check-out at 2 pm
(subject to availability)

15% food discount

15% spa discount
客人评论
We just arrived home after 5 nights at the Mida de sea Hua Hin in staying in a deluxe pool room that had it's own plunge pool and found the stay absolutely lovely.

The bed was King Size and very comfortable and the pillows were awesome to boot.

The room was large, spacious and it's easy to see that a lot of thought has gone into the room and hotel design so as to ensure it's guests are comfortable. The hotel staff are very polite and courteous and made our stay very pleasurable and memorable. Having been to Hua Hin much time before this time we were determined to see the local side of Cha –Am and Hua Hin.

Will we be back to stay at the Mida de sea Hua Hin? We wouldn't stay anywhere else.

特别感谢 : eakamonk
I stayed there with my friend recently and it was a great experience. Even though the property is a bit outside the town area but they have free shuttle service for guests which was very useful. They are not located on the beach with direct access but we learned that after the sister property next door fully open, guests at Mida De Sea and share the use of private beach there. The room was big, we stayed in a duplex with direct access to the pool. Breakfast was good.

特别感谢 : nutwcho_2829
New Hotel, spacious room with beautiful design, modern bathroom, wonderfully nice and courteous staffs (10 out of 10 mark), plus fitness room, sauna, golf cart to the beach and nearby community anytime upon request, a small convenient store just 50 metre away, 2 tasty and reasonable priced home-cook seafood restaurant next to the beach.......... all of these made our 2 nights stay truly relaxed and happy. Thanks. Will certainly come again and highly recommended.

特别感谢 : Wutkate
The first impression of this hotel was the staffs are very friendly, check-in counter staffs brought us to our room and we really feel that friendly smiles. The studio room is very big and comfortable, everything provided. The breakfast is good as well, not many changes as we stay for 4 nights, but it's good taste. Hotel is some distance away from the town, it's quiet and peaceful here. Beach is a mile away, and the beach is quiet also, not for the traveler looking for happening stuff here.

特别感谢 : Hendrys C
My wife & I could not have been happier with our stay here. The rooms were incredible, we were even fortunate enough to upgrade from deluxe to duplex pool access, it was an extremely nice room that was clean, had fresh towels and all of the amenities one would expect. The staff was always smiling, very kind and incredibly accommodating. They also have recommended the outside spa with wonderful and incredibly affordable massages and mani/pedi services. This was our first trip to HUAHIN and we are already looking forward to planning another. Unfortunately for us, we didn't notice the tours that they offered until our last day, but that is definitely something we will take advantage of next time.

特别感谢 : derbyshirerock
I and family was very enjoyable, the staff was so nice, very helpful, very polite, the room was so nice with a beautiful sea view, we stayed in a non smoking room, even on the balcony which is nice, the pool is fabulous and the price around the poolside bar is reasonable, the seafood pizza was very good, in the restaurant, buffet breakfast had a wonderful selection, the food was so fresh and healthy, I would definitely recommend this resort to everyone who would need to enjoy the holiday and for sure I and my family would go back again without any hesitation, very happy with this resort and all of the friendly staff down there!

特别感谢 : Panuphon P
Stayed during February 2016 for 6 nights. The rooms are big in size. Good sea facing balcony. Breakfast and interest go fine. What I specifically noticed is staff courtesy. It's a class apart and you will enjoy. If you are looking for a calm and closer to sea location, it's a good deal. But to be in the city, it's about 15kms.

特别感谢 : binojk2015
Staff friendly and helpful. Nice swimming pool. Breakfast and evening meal good. Rooms comfortable. Good location within easy walking distance of local shops and restaurants. Within easy reach of domestic airport.

特别感谢 : Singha K
We have been 5 times in this hotel within three months and have never been disappointed. The check in was a breeze and the room was ready despite arrival early in the morning. The staff is very friendly and knowledgable. some minor issues have been fixed to satisfaction. Our daughter is the biggest fan of this hotel and is looking forward to come back soon. Special thanks to all for their friendly support.

特别感谢 : charlieta
We have just checkout from our stay in Midadesea Huahin. The deluxe pool access room was so good just a step out into the lovely pool, the staff were very nice and couldn't do enough for you. The breakfast was also great plenty of choice from salad, American cheese, cereal, hot food, fruits to food stall & plenty of choice type of eggs you can select from Egg station good arrangement enough with the restaurant space. I will truly recommend that you try the Midadesea it was a great stay

特别感谢 : Thimothy F
研讨会的好地方。

特别感谢 : Wijaksn Hongjarern
气氛非常轻松。

特别感谢 : thaweesak uafua
美丽的客房,浴室里有化妆台,宽敞的卧室,喜欢游泳池

特别感谢 : Surang
房间宽阔,分得很清楚,靠近旅游景点,员工周到的服务。

特别感谢 : Sujitar
宽敞的住宿,美丽的游泳池,可爱的员工,非常美味的食物。

特别感谢 : Kath Reeya
宽敞的房间,干净,海景。大部分面向大海,每个房间,有一个小厨房,炉子,这在酒店很少见。早餐丰富多汁,美味可口,但是没有地方坐下来放松。主要在海景房。

特别感谢 : Jirapa
工作人员正在适应。房间复式令人印象深刻,宽敞。只有在没有烹饪的情况下提供的啤酒花才变得毫无用处。总体推荐, 特别是对于一个寻找娱乐和消费时间的家庭而言。

特别感谢 : Chutima
不错的酒店,所有设施。美妙的游泳池和房间的美景。

特别感谢 : Booking.com 用户
美丽,良好的氛围,值得,当然会回来,下学期休息我不会错过,感谢您的晋升。

特别感谢 : Aroon Siriworawit

Luxury Contemporary / Stylish Hotel
Regional Winner: South East Asia

Traveloka
Preferred Hotel Partner

Address: 
1349 Soi Cha-am 53(Bo-Kia Road), 
Petchkasem, Cha-Am District Petchburi, 
76120 Thailand
Check-in: 2 PM
Check-out: 12 PM