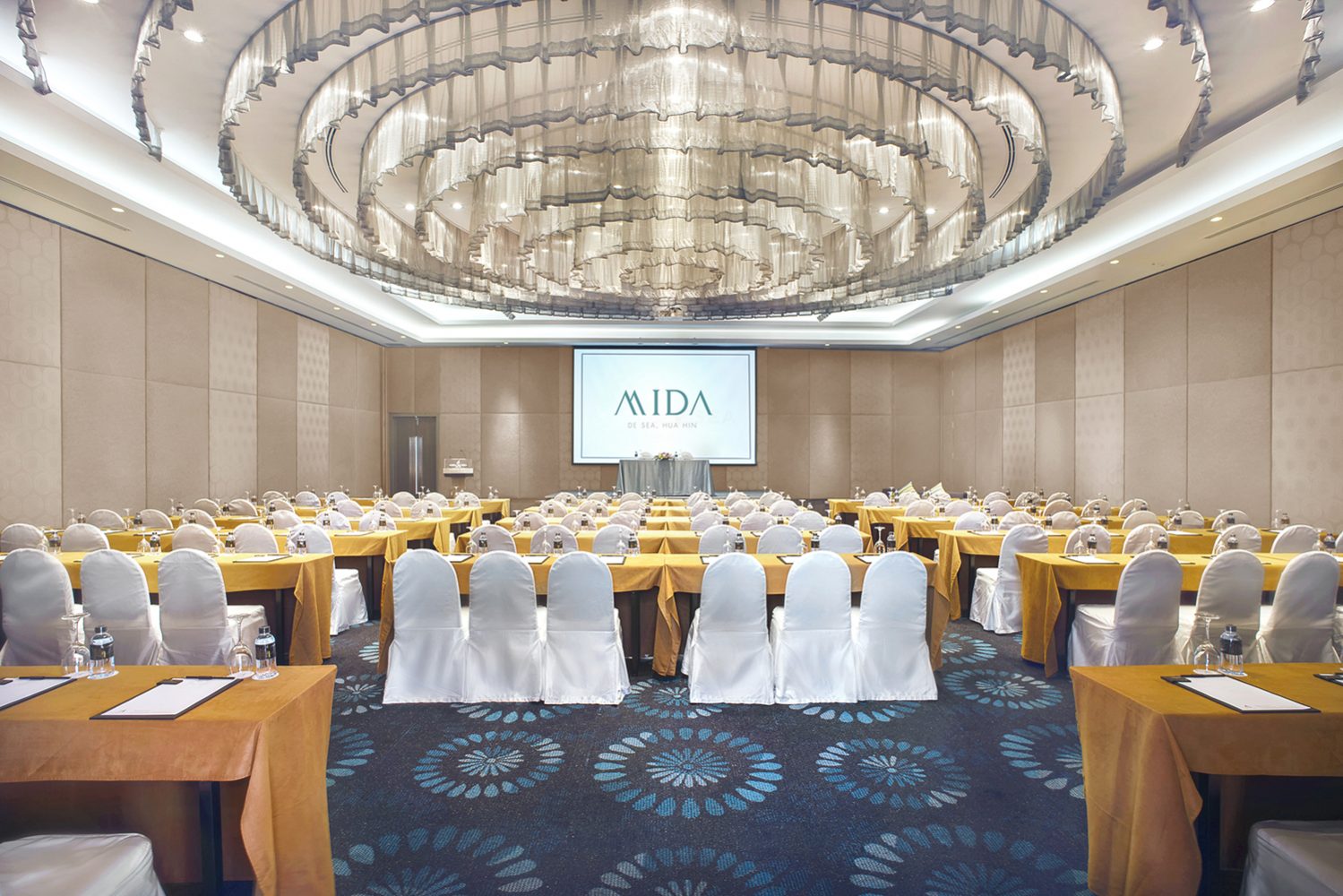 MEETING & WEDDING
Start your brain power
Huge space to create a powerful brainstorming.
Come to prepare your future within creative space.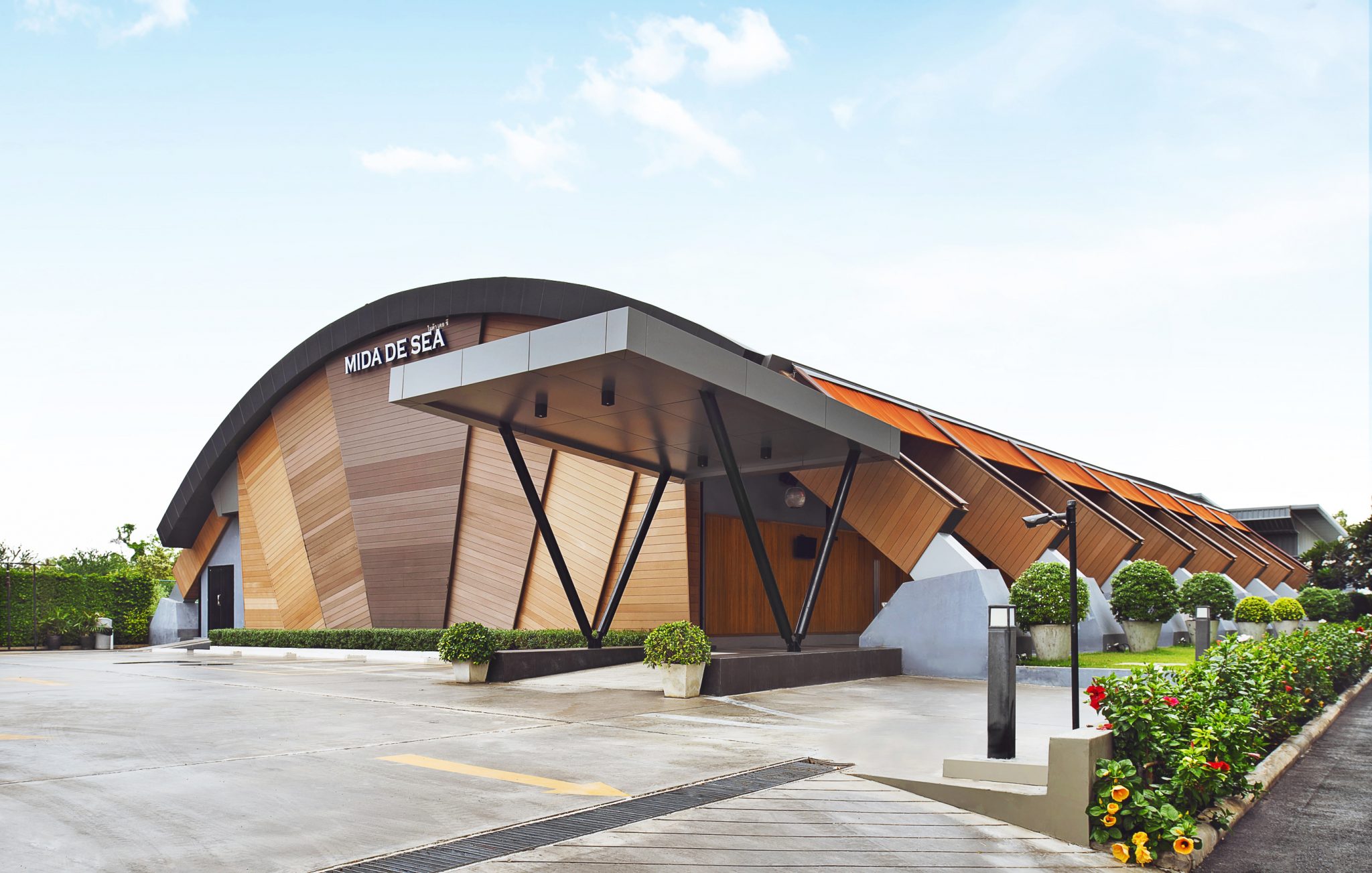 Meeting
Hua Hin is located in a prime destination where you can organize a meeting, seminar or wedding and party. With private surrounding, Mida De Sea Hua Hin is ideal for all kinds of events. The hotel can hold a seating capacity of at least 15 persons up to 672 persons in the ballroom. Four function rooms are fully equipped with all the modern technical requirements, state-of-the-art audio-visual technology, video conferencing capabilities, and stage. Banquet staffs are professional and well-trained to serve all guests.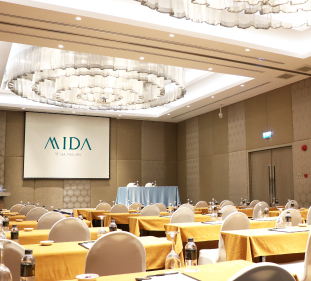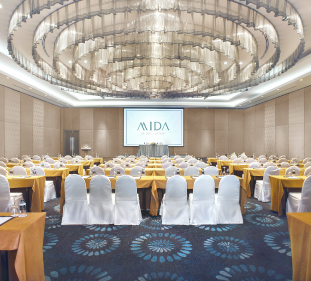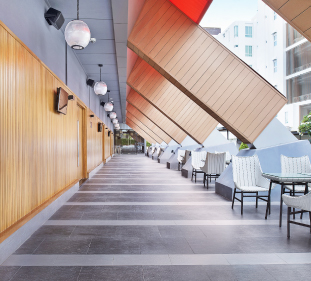 | | |
| --- | --- |
| Cocktail Menu | 690 / Pax |
| International Buffet Menu | 790 / Pax |
| Chinese Set Menu A | 8,300 / Table |
| Chinese Set Menu B | 8,900 / Table |
Complimentary Offers
Number Of Attendees
150 - 199
200 - 249
250+
Garland for bride and Groom 
Guest attendant book 
1 Book
2 Books
2 Books
Ice carving
-
1 pc.
2 pcs.
Wedding Cake
7 pounds
10 pounds
15 pounds
Floral Corsage
4 pcs.
4 pcs.
6 pcs.
Flower stand on stage
Artistic Wording Backdrop
Wedding Card box
Overnight Honey room for bride & groom with ABF
Deluxe
Deluxe
Deluxe
Day Snack for bride & groom
LCD Projector
Gift voucher at Mida Resort Kanchanaburi for 1 room (1 night)
-
-
Terms and Conditions
Not exchangeable for cash and no refund.
The hotel reserves the right to confirm our package payment in the contract signing day,The number of guests not reduce.
Advance deposit 50% and pay 50% in your wedding event.
In case of calcellation, The hotel will not pay refund deposit.
Contact
Banquet Department
Tel: 02-574-3636
E-mail : adoscorp_mdhh@midahotelsandresorts.com
MEETING ROOM CAPACITY
ROOM
DIMENSION
(WxLxH) M.
AREA
(sq.m.)
CAPACITY
Classroom
Theater
U-Shape
I-Shape
Hollow
Cocktail
Buffet
Chinese/Set
De Sea 1
15.8x8.9x4.6
140
108
208
48
-
-
150
120
120
De Sea 2
15.8x13.4x4.6
212
162
286
52
-
-
200
160
160
De Sea 3
8.9x7.9x4.6
70
48
98
24
-
-
60
50
50
De Sea 4
8.9x7.9x4.6
70
48
80
24
-
-
60
50
50
De Sea 1-4
15.8x31.3x4.6
494
366
672
158
-
-
500
350
350
De Sea 1-2
15.8x31.3x4.6
352
270
494
100
-
-
350
250
250
De Sea 3-4
15.8x8.9x4.6
140
108
178
48
-
-
150
100
100